A warm welcome to
Microdolls – Daniela Kiefhaber
Movable porcelain miniature dolls and portrait dolls in 1/12th dollshouse scale.
These miniatures were sculpted by hand by the artist Daniela Kiefhaber. All one of a kind figures have multiple joints and can be posed in life like expressions around the dollshouse and miniature scenes.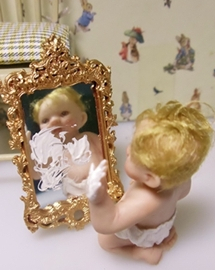 The beginning:  Porcelain as a material has always fascinated me. The transformation from a claylike, chalky basic piece through fire into a silky, shiny, precious doll still appears like magic to me.
But I didn't stop there, as I wanted my little porcelain people to move. Children are meant to play, aren't they?
So I had no other choice then trying to incoperate joints into the sculpted pieces. It took me a long time through trials and errors. My family could tell you some tales…
The end result?
Little people bring life into your dollshouse and will bring you happiness through the years.
All the best,