Microdolls – Daniela Kiefhaber
Movable porcelain miniature dolls and portrait dolls in 1/12th dollhouse scale
These miniature dolls in the dollhouse scale were sculpted by the artist Daniela Kiefhaber directly in porcelain from her own hand. These entire one of a kind figures are equipped with multiple joints and can be posed lifelike in your dollhouse and miniature scenes.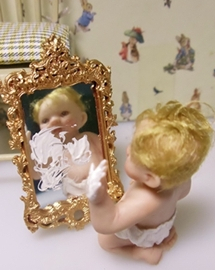 How did that happen? Porcelain as a material has always fascinated me. The transformation of a clay-like, chalky, brittle piece of ground material into a silky, shiny, precious doll always seems like magic to me.
But my little porcelain people should also be able to move. Because children finally wants to play, aren't they?
So I had no choice I have to equip the miniature dolls with numerous joints. Long times of development, with all its ups and downs are behind me. My husband could tell you a lot! But the years of experience have continued to optimize and refine the manufacturing process. At least I was finally accepted into the circle of the IGMA Guild.
The result for you as a dollhouse fan and collector:
Little individual people bring life into your dollhouse and will bring you years of happiness.
All the best wishes,